Spring is here, the sun is shining, the birds are singing, and we want to know what the 2021 fashion trends for women are going to be! Well, don't worry because we are going to go into depth about all the latest fashion trends for women that you need to know. First, we will talk about the silhouettes and design details that are hot right now, then the colors, patterns, and fabrics. After that, we will talk about shoes, jewelry, and accessory trends. Don't miss the end of the article where I will talk about one fashion trend for women I will definitely not be participating in this year!
Tiered Dresses and Skirts
Tiered dresses and skirts were all over the runway this year. Designers like Valentino and Zimmermann presented designs featuring gorgeous tiered dresses and skirts. This design detail is also very much present in stores. I am super happy about this fashion trend for women because I love how feminine and romantic it is!
Wide-Legged Pants
You probably already knew this had to be on the list. Apart from seeing them on pretty much every designer's runway this year, they are also all over social media. This trend is great if you have wider hips or if you want to add some curves to your body. It is flattering on many different body types. Wide-legged pants are also very comfortable so yay for that!
Ruffles
Another big fashion trend for women this year is ruffles. Designers like Carolina Herrera and Valentino presented designs with lots of ruffles, so much so that one of Carolina Herrera's dresses was one giant ruffle. Again, ruffles are also present in many high-fashion designs but also more affordable stores such as Zara and ASOS.
Puff and Balloon Sleeves
This is another trend you probably already knew about because it is all over the place. On the runway, Zimmermann did some beautiful designs with balloon sleeves and we could also see dresses with puff sleeves by Carolina Herrera. The bigger the better seems to be the motto for sleeves right now!
Suiting
Suits are very much on trend, continuing to be so since last year or even before. Of course, suits are classics and will never go out of style. However, seeing how hot they are right now, we can say that they are trending fashion for women. Chanel, of course, delighted us as always with tweed suits. Jacquemus also had some beautiful examples of suits. You can find this trend at all the major retailers such as H&M, Zara, ASOS, pretty much everywhere.
A Variety of Interesting Necklines
Heart-shaped necklines, square necklines, bow necklines, are all examples of this. This is a fashion trend for women that has continued since last year. Carolina Herrera showed us many designs with beautiful necklines. Saint Laurent also showed us a couple of blouses with bows.
Matching Sets
Jacquemus, Ralph & Russo, and Zimmermann all came up with designs for matching sets. This is also very popular in stores, as we can find matching shorts and top sets, or skirts and tops, all over. River Island has a gorgeous set that looks very Zimmermann-inspired.
Colors
White, natural tones such as beige and caramel, and pastels which are my absolute favorite are all the colors we are seeing on the runway and in stores! Thankfully, these colors suit everyone's skin tone!
Patterns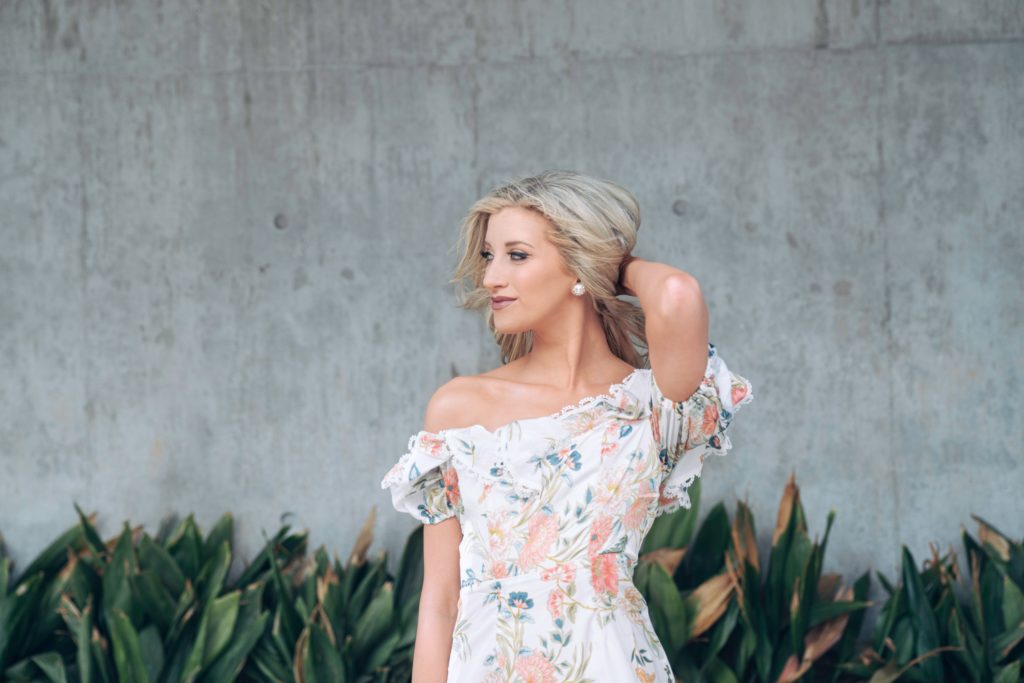 Astoundingly (not really), florals are in style this spring/summer. Stripes are also on trend, as they usually are for spring.
Fabrics
There was lots of linen on the runway this year. Jacquemus had his entire collection in linen fabrics. Zimmermann was also a big proponent of linen. We are also seeing linen in stores everywhere. H&M has an entire collection (the Wildflower collection) in linen-looking material that is gorgeous! Also notable were broderie anglaise, crochet, and embroidered details. Crochet especially is super hot. Dior presented a crocheted dress that was very pretty and many other designers such as Chanel presented clothes with crocheted details. Tweed was also notable on the runway; however, tweed is a classic and I wouldn't exactly call it a trend. Another fabric that is trendy is see-through, gauzy fabric. Dior and Valentino showed designs in gauzy fabric.
Shoes
There were quite a few styles to note on the runway this year. Pointed toe shoes, be they flat or heeled; slingbacks at Saint Laurent and Chanel; V-neck heels; T-strap sandals at Zimmermann and Chanel; loafers; and strappy sandals were very favored shoe styles for 2021.
Jewelry
Pearl jewelry and accents are still going to be in style this year carrying on from last year. I love a good pearl necklace or earrings and they are even better when paired with chain jewelry which is another jewelry trend this year. Chanel and Chloe both showed pearl jewelry and pretty much every single designer showed chain jewelry or accents in their collections for this year. Another jewelry trend that was seen was long necklaces with a chunky pendant. Chloe paired this jewelry trend with some of their dresses for a rather bohemian look.
Accessories
Straw hats are continuing to be hot this spring/summer with them being seeing at both Ralph & Russo and Zimmermann which is great because apart from being cute, they protect us from the sun! Scarves were seen in various designers' collections, such as YSL with a scarf around the neck, and Zimmermann with a scarf as an accent on a purse. In stores, this seems to be a popular trend, as well.
Worst Trend of 2021
For me, the worst trend of the 2021 fashion trends for women is that of mismatched earrings. Zimmermann and other designers as well showed their models with one little earring on one side and a huge earring on the other side. I think this looks strange like you lost your earring and instead of just not wearing earrings you decided to make do with another totally different one!
Now that we have rounded up all of the fashion trends for women in 2021, what are your thoughts on them? Are there any that you particularly love? Are there any you hate? Will you be wearing the mismatched earring trend? Do you want to know how to style the 2021 fashion trends for women? Let me know on Instagram @stylizeyouig