After living in countries with only two seasons for many years, I love enjoying and celebrating all four seasons! When thinking up fall outfit ideas, I look to the season's warm, cozy vibes to inspire my outfit choices. Gorgeous foliage, bonfires with friends, hot chocolate, movie nights snuggled under a blanket, pumpkin everything, and hikes in nature translate to styling opportunities with chunky knits, leather jackets, cashmere, sheepskin, ankle boots, wellies, and tweed. Ahead, see 12 cozy chic fall outfit ideas that will help you embrace the season with killer style.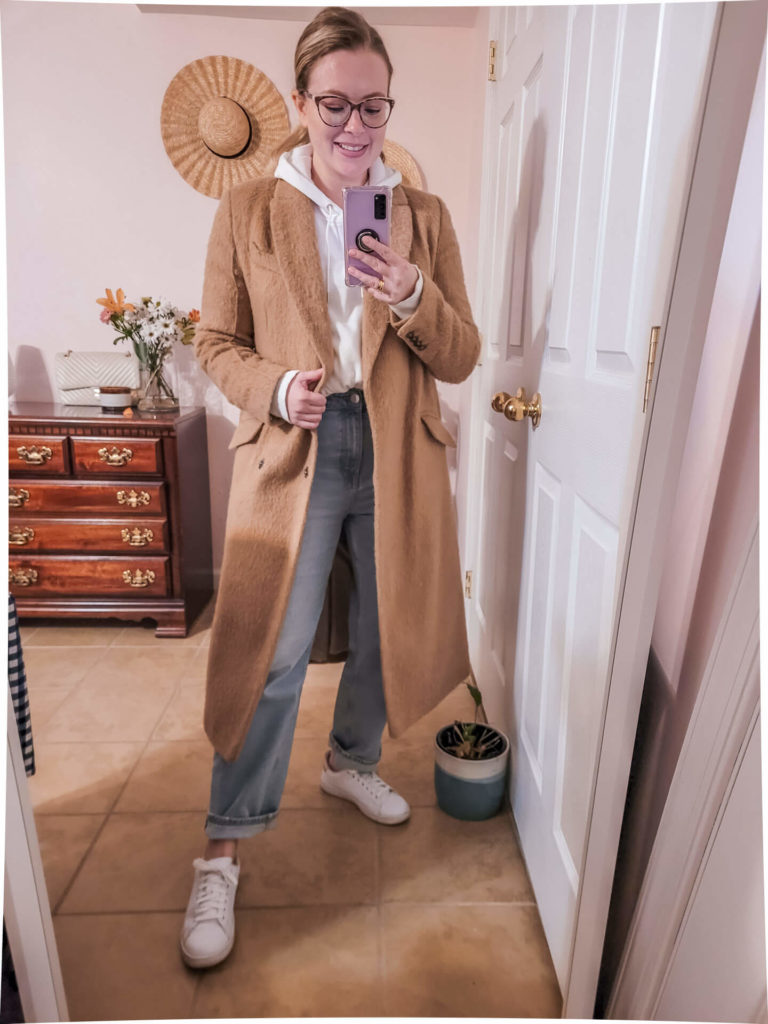 Sporty Chic
A camel hair coat is a classic wardrobe staple. For chillier temperatures, pair one with a hoodie, straight-leg jeans, and sneakers to give your comfy look a cool edge. This outfit is one to keep in the back of your mind for everyday activities.
Pumpkin Dress
Pumpkins aren't just for pumpkin spice lattes! Take inspiration from nature and pair a fun pumpkin-colored dress with flat mules or booties for a cute take on fall fashion. Pop a long, cozy cardigan over the top if it gets chilly. This outfit would be perfect for fall family pictures.
Summer Linen in Fall
Wait to put away your summer linen! For those warmer days that seem almost like summer all over again, style linen pants with a camisole in fall colors and throw a cardigan over the top in case it gets chilly in the evening. Pair with pointed-toe brown flats for a chic but casual look.
Knitted Comfort
A knit dress is fall's LBD. Add a belt to give waist emphasis, if needed. Wear a knit dress with a pearl necklace and mules, and you have a cozy chic outfit that is as cute as it is comfortable.
Wear a Blazer with a Shirt Dress
Office chic in seconds! When you've slept in too late and have run out of time to get dressed for the office, pop a blazer over a shirt dress and add a belt. Wear mules if it's warm, or break out the boots if it's cooler.
Hat and Poncho
Layer a poncho over a basic turtleneck-and-leggings outfit and accessorize with a fedora and boots to keep you warm. Add a hat to keep your head warm and for extra style points! A layered outfit is perfect for days when the temperature is all over the place.
The Cardigan
At the beginning of fall, wear a cardigan over a tank top and straight-leg jeans for a chic look that is temperature appropriate. Later on in the season, swap it out with a thicker knit cardigan and booties. This is an easy but chic fall outfit idea for those days when you can't decide what to wear.
Embrace Your Warm Knits
A warm knit sweater and skirt will be your go-to outfit for chilly fall days. So comfy, chic, and easy! Wear a pair of boots, and enjoy a day at the office in an outfit that feels like pajamas!
Green Dream
Eucalyptus green is a beautiful fall color and a little out of the ordinary. Pair this dress with a fedora and booties, and you will have the perfect outfit for a day outside.
Botanical Prints
Wait to put away your spring dresses! If you have a dress with a botanical print in colors that lend themselves to fall, such as brown and yellow, wear it with boots and a cardigan. This fall outfit idea will help you maximize your wardrobe and get the most wear out of your pieces.
Adding more fall colors to your wardrobe can make your outfits more exciting. Colors such as darker greens, navy, light blue, cool-toned blue, burnt orange, rust, mustard yellow, ochre, and red can add a lot to your fall outfits. Adding patterns and fabrics such as plaid, houndstooth, tweed, leather, sheepskin, and stripes will also give your fall outfits visual interest. Need to know what colors suit you? Here is an article about color seasons to figure out what colors bring out the best in you. These fall outfit ideas will help you create some fabulous fall outfits! Wondering how to dress for the different seasons? Find out how to keep cool in summer here.